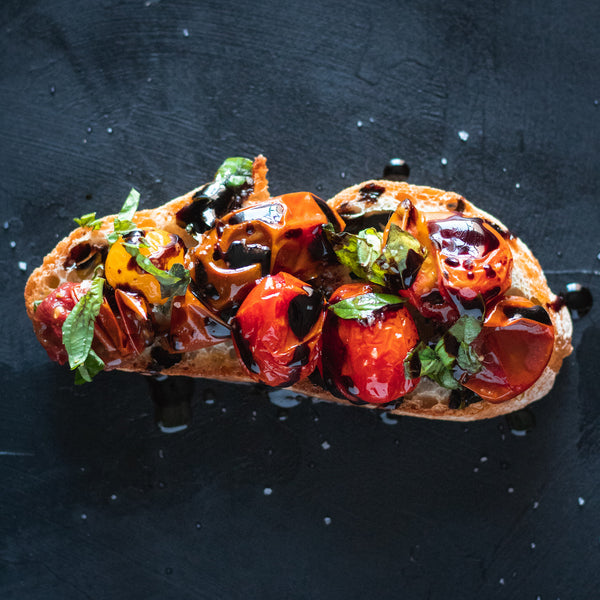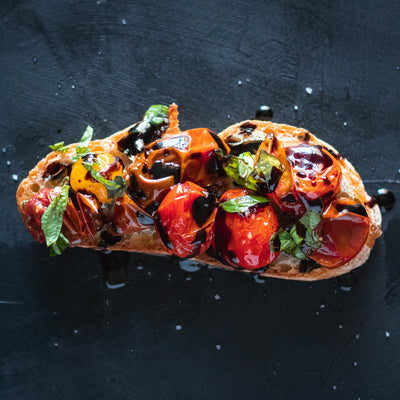 Traditional bruschetta is an absolute no-brainer when it comes to crowd-pleasing. It's on the lighter side of appetizers and always delicious which is a complete win-win in our book.
We decided for this recipe to roast our tomatoes before assembling. If you've never roasted tomatoes before you are in for a treat! It is a complete transformation in taste. Not only does it make the tomatoes tender and bring out that delightful crisp that comes along with roasting but it really just makes the flavors burst that much more.
Word of caution for roasting tomatoes that you don't have to worry about as much with other roasted items. Since tomatoes are so juicy, to begin with, they tend to be extremely hot which is why we recommend halving your cherry tomatoes. This will help the tomatoes cool a little faster and get rid of some of the excess juice.
Now let's get to roasting!
Ingredients
2 pints cherry tomatoes (halved)
Recipe Instructions
Preheat oven to 450˚
Cut your cherry tomatoes in half and toss with oil on a rimmed baking sheet; season with salt and pepper.
Roast tomatoes, tossing once, until tomatoes are blistered and beginning to burst, about 20-25 minutes.
Let cool.
Assemble by adding a scoop of roasted tomatoes to bread and topping with chopped basil, drizzle of balsamic vinegar, and a sprinkle of Fleur de Sel.