Pear & Parmesan Bruschetta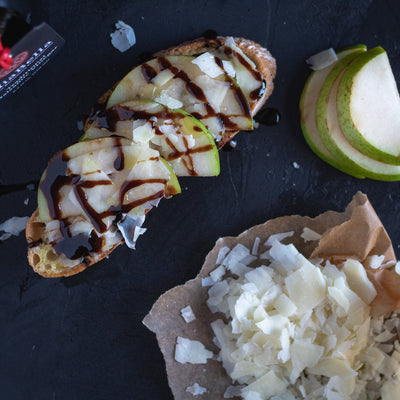 Sometimes the best combinations are the most unlikely. On one hand, we all know that biting into the perfect pear is a delicious treat on its own - juicy with a subtle sweetness just about everyone can appreciate. On the other hand, biting into a nice aged parmesan is an experience all on its own - a mild sharp flavor with a creamy finish.
But when you put the two ingredients together and top it with our aged balsamic you get a culinary rush that only gets better with each bite. We've always enjoyed pairing (pearing?) fruit with cheeses and a drizzle of balsamic but presented in the form of a bruschetta takes it to another level and maybe the combination that disappears from the table first.
Grab one and enjoy it while it lasts!
Recipe Instructions
Thinly slice your pears.
Line your toasted bread slices with 3-4 slices of pear.
Top with parmesan and a drizzle of aged balsamic vinegar.