Grilled Peaches with Vanilla Bean Ice Cream
Yummy Dessert Recipe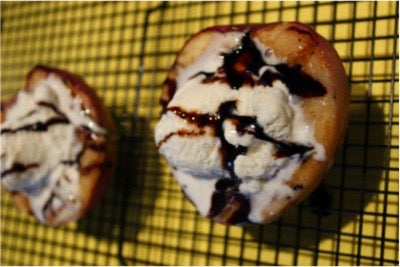 A culinary recipe to serve a delightful dessert of grilled peaches with vanilla bean ice cream that can be prepared in just about 10 minutes.  Enjoy dessert like never enjoyed before with our customer favorite MiaBella Traditional Balsamic Vinegar.
Prep time: 5 minutes
Cook time: 5-6 minutes
Servings: 4
Ingredients
4 scoops vanilla bean ice cream
Recipe Instructions
Ensure grill grates are clean and preheat to medium heat.
Cut each peach in half and remove pit.
Brush each peach half with olive oil and place cut side down on the grill.
Grill for 3 minutes and rotate 90 degrees. Cook for an additional 2-3 minutes.
Serve immediately.
PRO TIP: Replace ice cream with ricotta cheese