Blood Orange & Greek Yogurt Bruschetta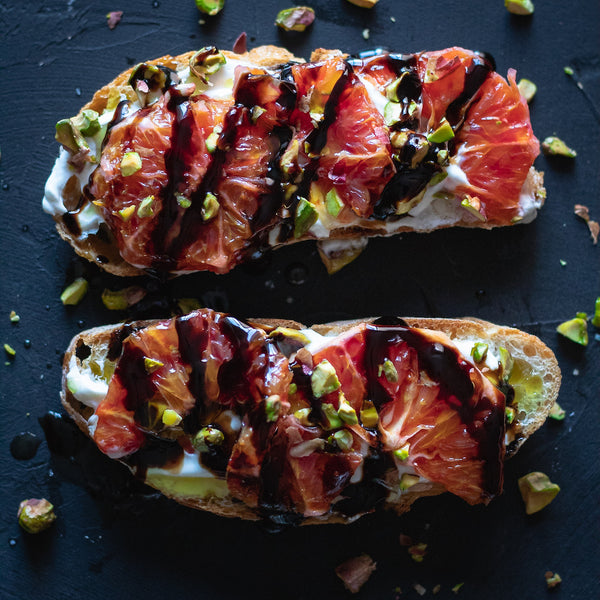 Blood orange is all the craze.
Greek yogurt is all the craze.
It only makes sense to put the two together on bread and drizzle the thick sweet syrup of aged balsamic on top. The sweet, tangy, and sour explosion of flavor from the blood orange placed on top of the creamy thickness of the greek yogurt with the addition of our smooth aged balsamic creates a symphony on our tongue.
But what about the chopped pistachios? Delicious on their own, adding them to this bruschetta recipe bring another layer of texture and flavor that matches the other ingredients perfectly.
The last bruschetta combination, the Blood Orange and Greek Yogurt Bruschetta Recipe finishes off the options for you and your guests so that everyone will find flavors the will remember… they may even have a tough time choosing their favorite.
Ingredients
2 blood oranges peeled and sliced
1/2 cup chopped pistachios
Recipe Instructions
Smear a generous helping of greek yogurt onto each piece of bread.
Top with 1 to 2 slices of blood oranges.
Top with a crumble of pistachios and finish with a drizzle of balsamic vinegar.