Beet & Ricotta Bruschetta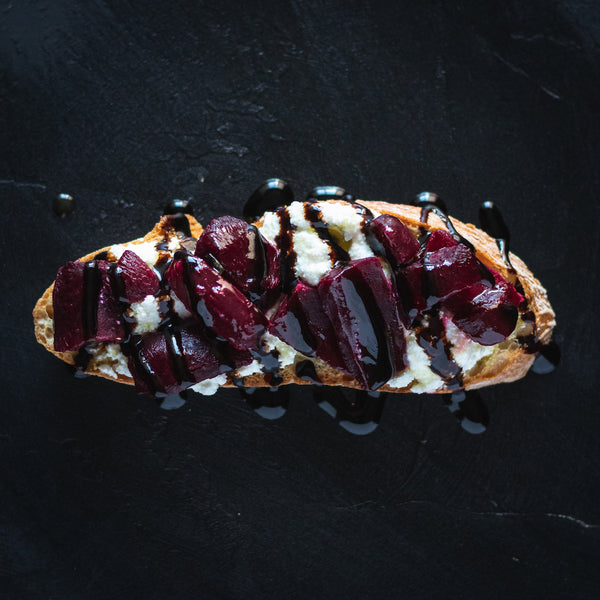 If you have already seen our recipe for Balsamic Roasted Beet Soup you already know all of the reasons why we are loving beets and the health benefits they bring to the table. If you haven't seen it it is definitely worth checking out to warm up these increasingly chilly nights.
Another reason we are a bit beet crazy over here is because of the presentation. The color that roasted beets bring really steps up your plating. Plus when paired with our other bruschetta creations it really rounds out the color scheme for your bruschetta bar.
Now onto the flavor profile. We chose the creamy ricotta as our base both for its lovely texture and for its ability to melt with other ingredients. Making ricotta cheese the perfect highlight for the earthiness of our roasted beets. And of course, to top it off we are using our Aged Balsamic Vinegar which adds both a sweetness and richness to our beet and ricotta bruschetta.
Recipe Instructions
Preheat oven to 400˚F
Skin and chop beets into 1/2" cubes
Toss beets with olive oil on rimmed baking sheet: season with salt and pepper.
Roast, tossing once, until beets are tender. About 1 hour. Let cool.
Add a dollop of ricotta to your bread and top with a few pieces of beet.
Drizzle with aged balsamic vinegar and a little olive oil.